5 Important Reminders for EWP Safety!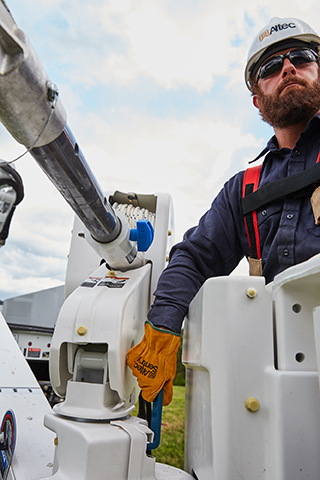 Elevated Work Platforms (EWPs) consist of a platform (bucket) and an elevating boom assembly which is mounted on a truck chassis. Workers stand in the platform to operate the unit and perform elevated tasks.
EWPs are powerful tools equipped with safety features that make working high off the ground easier and safer. However, they can be dangerous when not properly inspected, maintained and operated.
Before you start work, learn how to safely operate these powerful machines to help avoid injury-causing accidents or equipment damage.
5 Important Safety Reminders
Train and Respect – Statistics prove that lack of proper training leads to accidents. Respect your machine and get the right training! These are complex devices with numerous safety features. Read and understand the operator's manual and manufacturer's warning decals before using the unit, so you don't become a statistic.
Maintain and Inspect – Is your EWP getting the right periodic maintenance? When is the last time a qualified technician did the required service tasks to keep your unit in shape? As an operator, you need to perform an inspection before each shift. Look for damaged components, loose or missing fasteners, leaks, and low fluid or fuel levels. Follow the pre-shift operational inspection steps in the operator's manual to make sure you know what to inspect.
Confirm and Correct – During your pre-shift inspection, confirm that all controls are properly labeled, functioning correctly and that they return to neutral when released. Set the unit up properly, and ensure it is level within the limits directed by the manufacturer.  Operate the unit through its full range of motion from the lower controls before testing the platform controls. Correct any problems before placing the unit in service.
Wear and Connect – Wear your personal fall protection harness and lanyard and connect it to the designated anchor point on the EWP. You will be working far above the ground, and your harness and lanyard may save your life if an unforeseen accident occurs. Inspect your fall protection equipment before each use and store it in a protected location.
Observe and Protect – Pay attention to your surroundings while operating an aerial device. Observe your boom and platform movements. Protect yourself from contact with energised electrical lines or components by remaining at least 10 metres away at all times. Watch for obstacles and if necessary, use a spotter to remain clear of hazards.
These five reminders help ensure aerial device operation. Check your operator's manual for many other safety requirements and operator responsibilities. The more you learn on the ground, the safer you'll be in the bucket!
For more information on Altec products, operator training and other services, call 1300 1 ALTEC or contact an Altec representative online.