Altec Provides Solutions for Transmission Maintenance and Repairs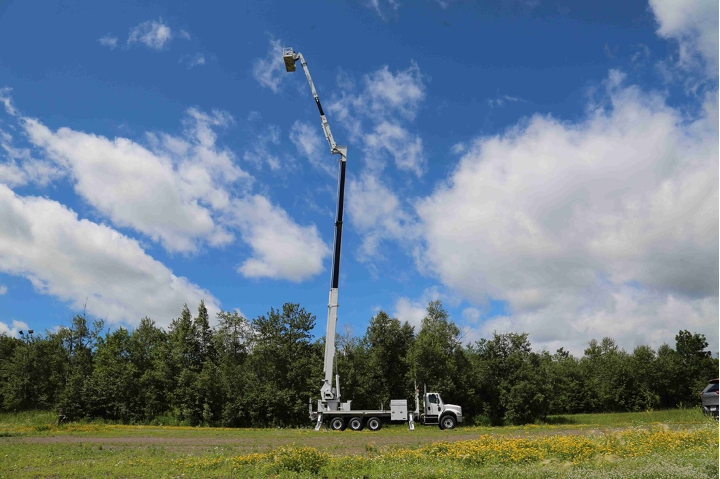 Altec is a leading provider of products and services to the electric power utility, telecommunications, tree care, lights and signs, oil and gas, and rail markets around the world. Supported by strong design and application engineers, parts, and service, Altec delivers more than just equipment. We deliver service before, during, and after the sale. Altec equipment is designed for high productivity and low maintenance costs and is designed to meet industry standards.
Altec offers a complete line of elevated work platforms (EWPs), crane borers, and specialty equipment to meet a variety of electric utility needs. Through innovation and customer solutions. The Altec product portfolio includes units specifically designed to make transmission maintenance and repairs as easy and efficient as possible.
Transmission
Transmission towers and lines are one of the most important assets to electric utility companies. For uninterrupted power supply it is essential to keep transmission lines clean and in good condition by performing routine maintenance. Maintenance can be time consuming and requires a highly qualified team and the right equipment. Altec offers several models, like the ones below, to help keep your transmission lines and towers operating efficiently.
Altec's AH Series features the added benefit of a telescopic/articulating material handler for extra working height. The AH125 unit has a working height of 37.7 meters and a maximum operating range of 22.9 meters.
Altec's A-series offers supreme performance and reliability. The A77T EWP has a working height of 25.0 meters, a maximum working range of 14.2 meters and a working bucket load of 363 kg.
Altec is the industry leader in providing hot line insulator washers around the globe. Cleaning insulators helps to avoid brownouts, blackouts, and damaged equipment. Our HW145 is an ideal solution for cleaning electrical lines with a pressure up to 600 psi and over 44-meter boom length.
Depending on where a transmission tower is located, specialty equipment may be necessary to perform maintenance and repairs. Altec offers a wide variety of track mounted units in a variety of platformheights to fulfill different operational needs.
Contact us today to learn more about how Altec can meet your transmission maintenance and repair needs.