Transmission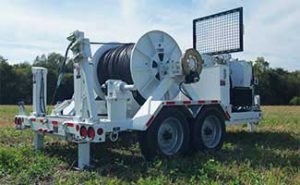 As Australia's energy market grows, Altec is here to support with equipment that will help meet the requirements of expanding infrastructure. Altec's transmission pole borers are ideally suited for setting big transmission poles and our line construction trucks are the perfect support vehicle.
Stringing Equipment
Altec is able to provide stringing blocks for transmission infrastructure, including the following products:
5708-1H Helicopter Stringing Blocks
5716 Convertible Stringing Blocks
6707 Stringing Blocks
6711E Stringing Blocks
Altec stocks engineered tension stringing solutions for every electric utility application. The range of products is well known for facilitating safe and efficient installation methods. We have a range of puller-tensioners to suit your requirements.
Winders
Altec Australia is able to provide the following winder solutions:
2501 Pilot line winder
Reel winders
Speak to us today about how we can help with your transmission solution needs.