Elevated Work Platforms: The Altec Advantage
When it comes to access jobs, no equipment can provide the highest level of safety and efficiency better than an Altec Elevated Work Platform (EWP). Originally built for harvesting fruit on orchard farms, today these specialised trucks are used by almost every industry that requires aerial work. Altec Australia is focused on providing insulated EWPs primarily used in the utilities and telecommunications sector.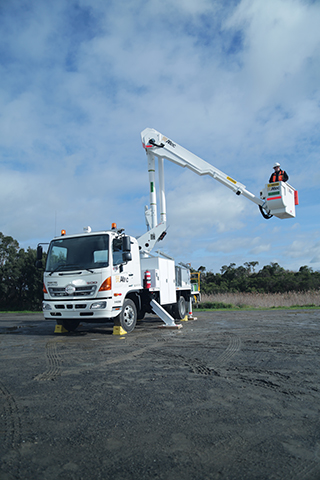 Reliability
Due to the nature of EWP usage, reliability is always an important issue when choosing a manufacturer. As the design of this vehicle has developed throughout the decades, many manufacturers have come and gone. The longest operating manufacturer of EWP equipment is Altec.
Oldest and Most Influential – Altec is the oldest and most influential company in the business. Since its start in 1929, Altec has paved the way for future equipment designs and features. Its reputation does not solely rest on longevity; it remains highly regarded because it produces well-made and reliable equipment.
Pioneer of Modern Safety Features – Altec has also pioneered many of the safety features seen on the modern EWP work truck. Safety is paramount, especially considering the unit is designed to lift a person many metres in the air and sometimes under dangerous conditions. Altec EWPs are equipped with safety features designed to protect operators from potential hazards on the job site.
Controls
As mandated by OSHA and in compliance with Australian standards, Altec trucks are equipped with two control panels. The primary control is located within the bucket, while the secondary control is accessible at the base of the truck. The primary control will allow the aerial worker to control the bucket, while the secondary control can only be used to override the primary controls in case of an emergency or if the worker is incapable of operating the primary controls.
Insulated Booms
To protect the aerial worker from electrocution, Altec bucket trucks that are used for power line maintenance and repair are equipped with fibreglass insulated booms. The insulation is designed to protect the truck's occupants from electrocution in case the boom comes in contact with a live wire. Some Altec vehicles that are not designed for working near power lines are also equipped with insulation but have a lower insulation rating.
Aftermarket Services
Altec offers aftermarket service and support with a nationwide service network in Australia and the ability to purchase parts locally. The same high-quality production is maintained on Altec's aftermarket parts; therefore, when equipment has been serviced, the same quality and reliability can be expected from the truck's performance.
When properly maintained and operated, EWP trucks are a safe and reliable type of equipment. When purchasing an EWP, consider the reputation of the manufacturer, the overall production quality, and the after-market support of the product.
For more information on Altec products, operator training and other services, call 1300 1 ALTEC or contact an Altec representative online.