Supporting the New Needs of the Arboriculture Market
It is clear that 2020 shaped up to be a year like no other with demands placed on all of us and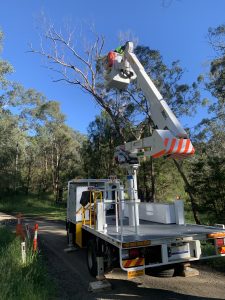 Australians showing incredible resilience. The arboriculture sector in particular has been impacted, with crews having to work in smaller numbers while being asked to increase their efficiency and operate under strict hygiene protocols. The normal demands of the arborist job have increased significantly, putting even more pressure on those already operating in a high-stakes environment.
With all the uncertainty and additional demand placed on arborists, crews need to know that they are working with the best tools for the job. It is up to equipment manufacturers to provide them with equipment and solutions that are robust, efficient, and bespoke.
Throughout the challenges of 2020, Altec has continued to work with customers to provide custom solutions to their requirements. The demands of the vegetation management sector have led us to organise routine service and maintenance to suit dynamic schedules, facilitate quick response breakdown support, and provide flexible rental solutions for companies that have had to scale up or down to meet new requirements. The Altec Team is committed to working closely with customers to make sure that they are back on the job as soon as possible.
Our customers have shared the economic impact COVID-19 has had on their business such as budgets cuts and contract suspensions. Altec listened and brought a new offering to the market – a Rent to Purchase (RTP) solution. Our RTP offering allows customers to rent a unit over a certain period of time, and when that rental period is up, they can purchase the unit. The unit is custom built to the customer's specification, ensuring they get precisely what they require. This means that customers are able to get a bespoke solution with favourable pricing terms, providing greater access to Altec's range of products. Altec's RTP solution gives businesses more options, allowing them to continue working while providing financial flexibility.
Altec designs, manufactures, and sells insulated, truck-mounted EWPs that are built to the bespoke requirements of each customer. Altec units are built to operate in tough conditions and allow quick set up and movement, meaning crews are able to work efficiently. The AT30G and AT37G units are staples in the fleets of our arboriculturist clients.
To learn more about Altec's products and services, call 1300 1 ALTEC or contact an Altec representative online.