Track-Mounted Borer for  Tight Access &  Rough Terrain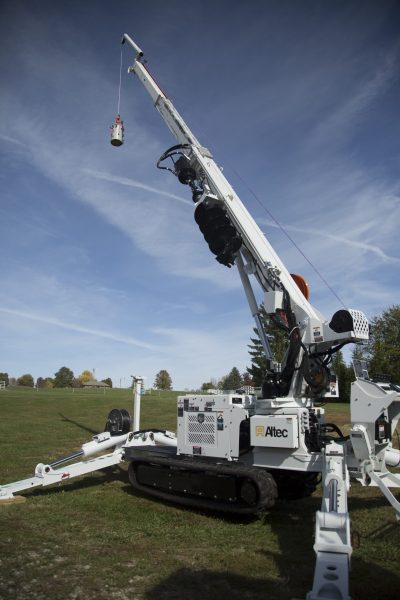 The  DB41B is a track-mounted pole borer that provides easy access to confined work areas. Built to serve the electrical utility and telecom markets, the DB41B provides best-in-class lifting and digging capacities, while also delivering multi-functioning speed and performance. The unit can easily set and service poles up to 16 m and lift up to 2,720 kg. The unit also has continuous rotation and an unlimited work zone.
With its ability to drive on front-to-back and side-to-side slopes of up to 15 degrees, the DB41B can traverse a variety of terrains. The track carrier has retractable tracks, which can reduce the minimum width of the unit to less than 90 cm to allow easy passage through pedestrian gates and tight spaces.
As with all Altec Pole Borers, the DB41B is engineered and tested to ensure it is built to last. The DB41B comes standard with Altec's Load Moment and Area Protection (LMAP) safety feature, which keeps the unit's operations within the limits of the load chart. If the maximum load capacity is reached, the machine locks out, and a horn and red LED light engages to notify anyone in the vicinity of the machine that it is overloaded.
The DB41B also provides the following features:
49.6 hp petrol engine
Hydraulic tilting pole guides
Maximum pick capacity of 2,720 kg
Full-function radio controls for driving the track carrier
Hydraulic side load protection (HSLP) during borer operation
Ground pressure below 7 psi
86 cm x 121 cm cargo deck with a 1,065 kg capacity to help haul equipment and transformers
Australian standards compliant control system which interlocks when running the unit from the platform
Optional jib winch that offers 450 kg material handling at any position
For more information on the DB41B and other Altec equipment, call 1300 1 ALTEC or contact an Altec representative online.