Altec Used Equipment – The Reliable Choice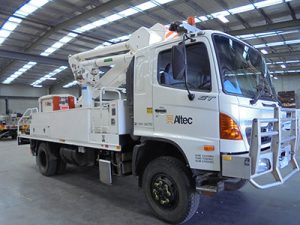 The Australian market for speciality equipment offers buyers a wide variety of choice, and it can sometimes be challenging to know where to turn for expert advice. The Elevated Work Platform (EWP) market is no exception, but if you're looking for an insulated, truck-mounted EWP, Altec is well positioned to build the best solution for your requirements.
Altec Australia designs, manufactures, installs, and supports insulated EWPs around the country, carrying on the proud Altec tradition that is 90 years old. While we are best known for our new and rental units, we also sell used equipment. Altec's used equipment consists of units recently released from the rental fleet, having been replaced with newer units.
Our used equipment carries the same guarantee that our new and rental units do – Altec's reputation for market-leading safety and innovation. All Altec used equipment complies with Australian regulations for certification, testing, and safety. To ensure optimal performance, our team verifies the equipment was well maintained during its use as a rental unit and then performs stringent service and testing before selling the unit in the used market.
Buyers of Altec's used equipment can rest assured that they will enjoy the same level of support from our expert team. We are able to provide parts, service, certification, and rebuilds, no matter where you are in Australia.
For more information on used equipment and other Altec products and services, call 1300 1 ALTEC or contact an Altec representative online.